While it may appear at face value to be a "soft" form of therapy, art therapy has proven to work wonders for many people trying to overcome addiction. This creative form of therapy is highly self-expressive and helps individuals understand themselves, explore emotions, better manage addiction and develop greater self-confidence. Patients of all ages benefit from this therapy.
A qualified art therapist helps patients access and interpret feelings long ago hidden under the veil of substance abuse. Through this creative and self-expressive therapy, patients can learn to overcome problems and personal obstacles. This therapeutic method enables people of all ages to free themselves through artistic creativity.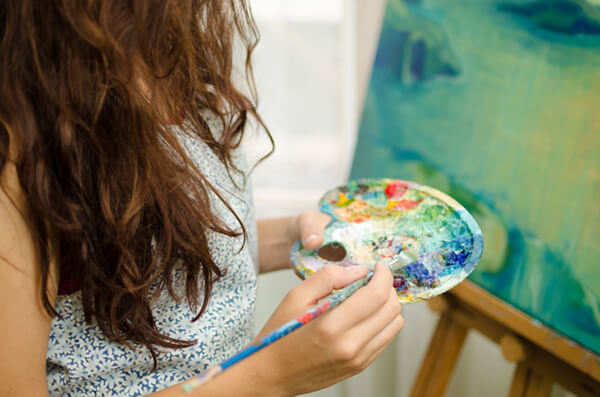 What is Art Therapy?
Art therapy is a widely recognized, effective mental health therapy method directed by a licensed art therapist who helps patients use art media, creativity and produced art to achieve specific goals. Some of those goals may include:
Exploration of feelings

Reconciliation of emotional conflicts

Fostering of self-awareness

Management of behavior and addictions

Development of social skills

Improvement of orientation with reality

Reduction of anxiety

Building of self-esteem

Overall restoration of patient functioning and sense of well-being
This form of therapy is widely used throughout the United States and in other countries by a wide variety of treatment programs and facilities, including:
Hospitals

Mental health programs

Addiction treatment centers

Wellness programs

Educational programs

Senior communities

Crisis centers

Private medical practices

Other clinical and community environments
How Art Therapy Helps Patients
Art therapy takes place in individual or group settings with an art therapist who helps patients tap into their inherent ability to create. In the process, physical, emotional and mental well-being are enhanced. This type of therapy is helpful for patients of disease, trauma, mental health conditions and addiction.    
For addiction treatment patients who have experienced trauma leading to their substance abuse, creative and self-expressive therapy can help them work through the trauma to overcome the hold it has on daily life and mental health. Such traumas include those from abuse, combat, crime, disease, injury and natural disaster.
While creative therapies are used to treat emotional and mental conditions, one of the major benefits that addiction treatment patients gain is that of stress and anxiety relief. Self-discovery is helpful for those individuals, as well as those suffering from depression. A healthy creative outlet can help people get through many of life's hurdles without turning to other substances.
Inherent talent or ability is never an issue in the creation of works during these sessions. Many patients initially fear expressing themselves during therapeutic sessions. It may feel unnatural in the beginning, but most patients soon look forward to this type of therapy and feel rewarded after each session.
Recovery In Motion Art Therapy Programs
Recovery In Motion is a residential addiction treatment program utilizing the 12-step program, dual diagnosis and a wide array of evidence-based treatment modalities to help the 'whole being' of a patient recover from substance abuse. Creative and self-expressive therapies are magnificent tools for regaining strength, stability, relaxation and self-confidence. As part of a complete treatment plan, this type of therapy provides a well-rounded approach to overcoming addiction to drugs and alcohol.
Call Recovery In Motion now at 866-849-0901 to learn more about the therapeutic programs included within comprehensive and affordable residential addiction treatment. Don't wait – beds are available – your recovery can start now.