Psychoeducational Groups for Substance Abuse Recovery
In substance abuse recovery, psychoeducational groups are one of five different types of group therapies offering benefit to patients, according to the Substance Abuse and Mental Health Services Administration (SAMHSA). Those five models of group therapies are:
Psychoeducational groups

Cognitive-behavioral and problem-solving groups

Support groups

Skills development groups

Interpersonal process groups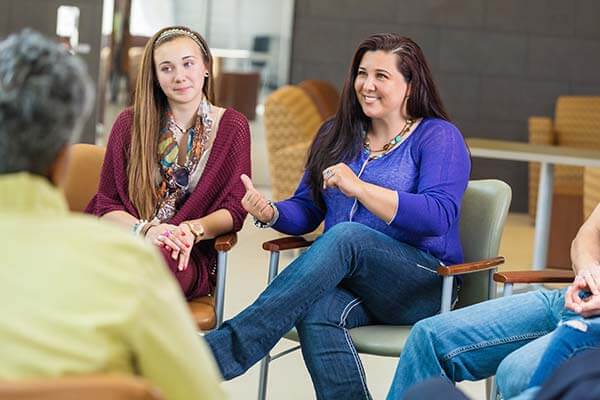 What are psychoeducational groups?
Psychoeducational groups focus on patient education regarding specific disorders and how they can cope with the hurdles those disorders present in their substance abuse recovery. In some of these groups, all of the patients have the same type of issues requiring exploration and education, such as:
Depression

Trauma

Anxiety

Trust Issues

Medication needs

Similar addiction types

Stress issues

Common triggers

Relationships

Other commonalities
In other psychoeducational therapy groups, patients may have any of a number of co-occurring disorders with greater group focus placed on coping skills the entire group can benefit from, such as:
Overcoming triggers

Living within a community

Relationship building

Rule acceptance and adherence

Other life skills
Psychoeducational groups are facilitated by a trained therapist or other professional who acts as the group leader, also sometimes called a moderator. The group leader is highly involved in activity among the group, keeping direction focused and helping patients interact as they should for maximum benefit. These sessions are often heavily focused on providing support for substance abuse recovery, guiding patients through understanding of problems or issues, and helping patients gain skills to minimize the problems' impact at present and in the future.
How Psychoeducational Groups Are Used in Substance Abuse Recovery
In substance abuse recovery, these types of groups play several roles. First, they are used to benefit patients in their own recovery. Second, these groups may be used for family education about addiction and recovery of the family unit.
According to the National Institute on Drug Abuse, psychoeducational groups follow a specific structure and curriculum. This structure helps keep the group focused and working toward the common objectives.
A psychoeducational group session will often unfold something like this:
Patient self-introductions, including admitting their addictions, recent struggles of recovery and last day of use

Brief review of the session's topic and goals

Curriculum presentations and group discussions led by the group leader

Review of patients' individual plans for recovery during the upcoming week

Recitation of the Serenity Prayer or other group mantra with encouragement to continue in recovery and group participation
This is just one example of how a psychoeducational group may be conducted for patients. Family psychoeducational group sessions may follow a similar structure, but address issues families need to cover for maximum benefit of their loved ones and themselves as part of substance abuse recovery.
Psychoeducational Groups as Part of Treatment at Recovery In Motion
In Tucson, AZ, Recovery In Motion provides residential substance abuse recovery programs developed around evidence-based therapies for a comprehensive, integrated approach to overcoming addiction. These therapies include psychoeducational group therapies, as well as other forms of counseling and treatment that include dual-diagnosis treatment, group therapy, cognitive behavioral therapy, and family therapy programs.
Recovery in Motion has rooms available now. To learn more about how you or your loved one can benefit from the diverse array of evidence-based therapies available in residential treatment at Recovery in Motion, call 866-849-0901 today.