Intensive Outpatient Program (IOP)
An Intensive Outpatient Program (IOP) is the next progression in your recovery once you complete residential treatment, and it can also be an option for those with less severe forms of addiction. By going to the Intensive Outpatient Program (IOP) at Recovery in Motion, you'll have more freedom while you learn to embrace your recovery while still receiving the treatment and supervision that you need. It's been proven that the longer you stay in treatment, the better your chances are at long-term sobriety. This is why it's always recommended that you continue to receive help for as long as you can.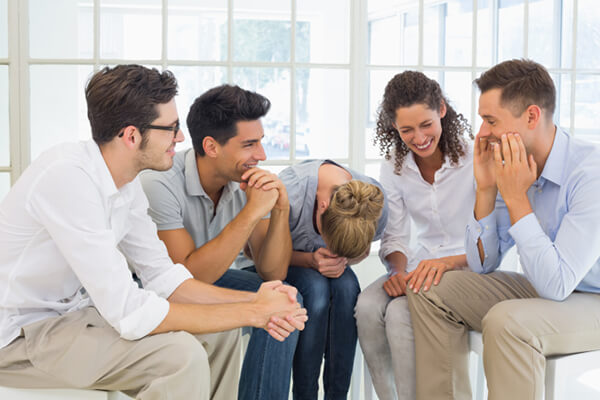 Transitioning from Residential to an Intensive Outpatient Program (IOP)
The residential program is designed to help those who have been unable to stay sober while living a normal day-to-day life. Residential treatment is often the first portion of a treatment program, because it provides each individual with a sturdy foundation of recovery. This allows the mind to be cleansed and healed. As your recovery and sobriety begins to strengthen, the time comes to begin the transition back into the world. But it's important to still have some stability. Leaving straight from a residential program and going back to your old life can be jarring for many patients. The shock of such a big transition can lead to relapse.
By going to an Intensive Outpatient Program (IOP), you'll be receiving regular treatment while having a little more freedom than you did while you were in the residential program. This will involve sober living and more free time before and after you receive treatment. It's important to maintain some structure in your life while you're continuing your treatment. This provides some accountability while you learn to have some trust in yourself as well.
You'll Have a Safe Place To Go
The main reason that many people relapse when going back to their old life too soon is because they don't have a safe place to go. When you're triggered by the stresses of work, family, friends or home life, it can be difficult to reach out to your support group because the disease of addiction is still very powerful in your life. While in the Intensive Outpatient Program (IOP), you'll be living in a sober environment, which allows you to have a support group who is there for you during these types of difficult situations in early recovery.
IOP for Lesser Forms of Addiction
The Intensive Outpatient Program is also a great option for anyone who is in the early stages of addiction. If the addiction has not been prolonged for an extended period of time, it may be more beneficial for you to go through the program without being in residential treatment. The staff at Recovery in Motion can help you make this decision. Sometimes it is beneficial for a person to continue living with loved ones while they go through treatment so that they have family support. The program also has family sessions, so your family can get involved and you can all begin the healing process as you receive treatment.
Getting Involved with the Community
Recovery in Motion believes in evidence-based treatment methods as well as 12-step programs. Alcoholics Anonymous created the original 12-step model now used in many forms of addiction recovery. Its founders determined that the support of other people recovering from addiction is without parallel. While you're in treatment, you'll be going to outside 12-step meetings, which will allow you to grow your support group, and you'll hear a message of hope. These meetings are where you can gain from the experience, strength and hope from others who have been sober for years.
Recovery in Motion serves the people of Tucson, Arizona, as well as those from different parts of the country. If you're from San Diego, Chicago or anywhere else, Recovery in Motion provides you with the perfect location to begin a life in sobriety. Call today at 866-849-0901 to find out more information about beginning a new life in our recovery programs.