The Outpatient Program (OP) is designed to help people who need minimal treatment, and this happens at different stages in your sobriety, as well as your addiction. The Recovery in Motion treatment program has various levels of care to help you no matter how bad your addiction has become. The idea of treatment is to not keep you at the residential level of care for the entire process. Consequently, outpatient is one of the final transitions you'll have as you get ready to begin your life in recovery.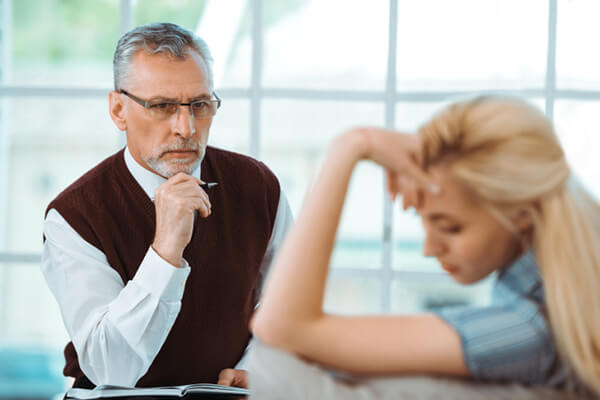 Stepping Down to an Outpatient Program
Recovery in Motion offers a full-service treatment program to help people who have severe forms of addiction. When you first enter treatment, you'll start out in the detoxification program, which is the highest level of care. This is designed to help ensure you're safe and comfortable while the drugs or alcohol leave your system. Once this process has been completed, you can begin treatment in the residential program. In the residential program, you'll have a lot of structure as your mind begins to heal and you begin understanding the program of recovery.
After residential treatment, it's recommended that you begin the Intensive Outpatient Program (IOP). IOP is for those who no longer have the obsession to use but still need a treatment program. At IOP, you'll have a little more freedom than you would in residential, but you'll still have a lot of structure.
The Outpatient Program (OP) is the last progression in the treatment process. In the Outpatient Program (OP), you'll have minimal programming, and you'll have time to begin looking for work or transitioning back into your old life, but you'll have the confidence you need to stay sober.
Coming to the Outpatient Program (OP) in Early Addiction
Before you begin treatment, you'll be assessed for which level of care will suit you the best. There are those fortunate enough to catch their addiction early on and realize that there's a problem. While there may still be a need to go through a detoxification program, this treatment process can be minimal because it's beneficial for this type of person to continue living a normal life.
If you're someone who is only attending outpatient, you'll be able to continue working, going to school and living at home while you come to treatment a few days a week. Programming will only be a few hours each session, and you'll learn the life skills you need to live a much better life without having to turn to drugs or alcohol. You'll also be surrounded by people who have been in treatment longer and may be able to provide you with suggestions so you don't have to reach some of the low points that they may have reached in their addiction.
Staying Accountable in Treatment
If you know that your environment is a big trigger for you, it's highly recommended that you do sober living while attending as an outpatient. This will enable you to have a safe place to call home while you're in the treatment program. Some people even decide to stay in a sober living long after treatment is over because it's another way to strengthen their sobriety. Outpatient also gives you the opportunity to attend outside meetings and get involved with the local recovery community.
Recovery in Motion is located in Tucson, Arizona, and is dedicated to your recovery from active drug addiction. You'll receive the attention and care that you need and deserve to overcome your addiction to mind-altering substances. If you'd like more information about outpatient and Recovery in Motion, call today at 866-849-09101.