Outpatient Program (OP) for Addiction in Arizona
The Outpatient Programs in Tucson, AZ provide an intermediate level of recovery care, which facilitates a guiding regimen of addiction treatment while the healing individual lives at home with loved ones, go to work or school, and tends to other responsibilities. It often serves as the final step in one's journey to recovery; however, it can be the heart of effective treatment for those with mild addictions as well. Additionally, outpatient treatment is often turned to in cases of relapse to get recovery back on track.
Outpatient Programs for Addiction in Tucson Arizona
Our outpatient program serves a wide variety of needs in recovery. Meetings take place multiple times per week allowing one to plan treatment around work or school schedules and other obligations. Group therapy meetings are extraordinary tools for recovering individuals to remain vigilant in their sobriety as they hear personal stories of triumph and tribulations as well as share their own.
Cognitive behavioral therapy is also a key factor in long-term recovery success. This individual therapy enhances one's understanding of the characteristics of addiction and how to recognize triggers and other vulnerabilities for possible relapse. Our outpatient treatment program instills important solutions and action plans for a recovering individual faced with cravings or an easy opportunity to drink or use again.
Although outpatient treatment is often the final step in recovery, there is no limit to how long one may need to rely on these services. Some have chosen to make outpatient treatment a regular part of the rest of their lives to avoid relapse while others feel confident enough in their sobriety to benefit from it for a shorter period of time.
For those using outpatient treatment in lieu of residential treatment, it's recommended that the duration of treatment be at least 90 days. The National Institute on Drug Abuse states "research has shown unequivocally that good outcomes are contingent on adequate lengths of treatment. Generally, for residential or outpatient treatment, participation for less than 90 days is of limited or no effectiveness, and treatments lasting significantly longer often are indicated."
The Outpatient Program Transition
Recovery in Motion offers real help to people who have severe forms of addiction. This is designed to help ensure you're safe and comfortable while the drugs or alcohol leave your system. Once this process has been completed, you can begin treatment in the residential program. In the residential program, you'll have a lot of structure as your mind begins to heal and you begin understanding the program of recovery.
After residential treatment, it's recommended that you begin the Intensive Outpatient Program (IOP). IOP is for those who no longer have the obsession to use but still need a treatment program. At IOP, you'll have a little more freedom than you would in residential, but you'll still have a lot of structure.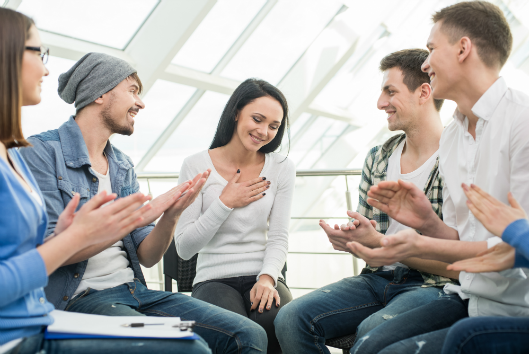 The Outpatient Program (OP) is the last progression in the treatment process. In the Outpatient Program (OP), you'll have minimal programming, and you'll have time to begin looking for work or transitioning back into your old life, but you'll have the confidence you need to stay sober.
Stand Alone Outpatient Programs for Substance Abuse
Residential treatment is an immersive program in which one puts his or her life on hold to overcome active addiction. A patient in residential treatment lives in a structured environment in which a strict schedule is followed consisting of several forms of therapy, life skills training, addiction education, physical activity, and much more.
While there is much to be said about this deeply engaging approach, it is not necessary for moderate or mild addictions and is not always a realistic option for those that need to maintain their employment or take care of young children. Outpatient programs may be more suitable for some and can be just as effective if the duration of treatment is adequate.
When you come to Recovery in Motion, our specially trained staff will talk with you about the characteristics of your addiction and your medical history in order to evaluate the level of care that you need.
Considerations for outpatient substance abuse treatment include the level of support available at home, the intensity of the addiction, one's willingness and motivation to participate in the program and other factors that contribute to the potential for the success of a long-term recovery.
3 Benefits of Outpatient Programs for Chemical Dependency
1. Access to Resources
Having a regular presence at an outpatient program keeps your finger on the pulse of resources available to recovering individuals and their loved ones. A wide variety of treatments and therapies like art therapy, music therapy and even yoga therapy.
2. Get To Know Your Local Sober Community
Substance abuse addiction is an epidemic across the country and does not discriminate. It seems that everyone knows someone who is struggling with an addiction. However, many don't understand it or how serious it can be and those struggling with it quite often have feelings of guilt and shame surrounding the disease. The recovery community is made up of people who not only understand addiction but the guilt, shame and isolation that comes with it. Continued involvement with the 12-step programs helps generate a whole new lifestyle for recovering addicts that supports life-long sobriety.
3. Easier Assimilation to a New Sober Lifestyle
Transitioning from treatment to daily life at home can be arduous for some as early recovery is the time period most vulnerable to relapse. Old triggers can often prove to be stronger than one's convictions to stay clean and sober. Outpatient treatment allows one to continue treatment while applying new thought processes and habits obtained in earlier treatment, which strengthens one's potential for a long, happy life absent of drugs and alcohol. The life skills training also provides valuable tools utilized every day involving self-management, social skills and ways to cope and overcome the inevitable triggers.