Recovery in Motion was just voted one of the best addiction treatment centers in America!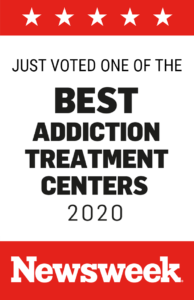 Recovery In Motion is a drug and alcohol rehab located in Tucson, Arizona offering quality care at affordable prices within a structured, community-centered environment that facilitates life-long recovery from drug and alcohol addiction. Recovery In Motion Treatment Center provides a full-service dual diagnosis or co-occurring disorder program within a real-life setting with holistic treatments that optimize our client's stay in the most effective ways. Many people who suffer from an addictive disorder have other mitigating factors that can impede a person's progress in substance abuse rehab. Our clinically driven, dual diagnosis/co-occurring disorder program offers our clients the opportunity for a successful recovery by addressing the potential mental health issues which may be present while they learn everyday life skills needed to thrive in a life of sobriety. Our goal is to prepare each client for a more fulfilling, sustainable life in addiction recovery at an affordable price.
We invite you to take an objective look at the true costs of addiction to you and your family and give us a call for a free consultation. You will find that our highly tailored, individualized treatment approach is affordable and absolutely worth it. Take this opportunity and make an investment in your life! Call Us Today.
Most Insurance Accepted
Recovery In Motion accepts most insurance to cover the cost of treatment. Let us contact your insurance provider for you and get you the care you need. We are able to negotiate the best self-pay rates if insurance is not available. We provide quality treatment with affordable rates.
Scholarship Pricing and Financial Aid Available
Insurance Accepted and Financing Available
A Statement on the Coronavirus
The safety and wellness of our clients and staff is always our main concern, so we wanted to keep you updated on the precautions we are taking at all our addiction treatment facilities.
Due to the Coronavirus Recovery in Motion Treatment Center is taking all precautions and we are following all CDC recommendations and mandates
We have implemented:
We have increased housekeeping and sanitizing procedures for infection control, specifically in areas of high usage such as door handles, communal areas, etc.
We have increased sanitary supplies including masks, antibacterial soap, hand sanitizers, bleach, and disinfectant sprays.
We have increased cleaning and maintenance for a complete and thorough wipe down of all residences and common areas.
We have implemented additional staff training and education on appropriate hygiene protocols and all staff are aware of all prevention, management, and containment protocols.
All employees who show any potential signs and symptoms of COVID-19 will be sent home and not allowed to return until cleared medically. (Symptoms are fever, coughing and respiratory issues)
Employees planning to travel out of the country, go on a cruise or visit a highly infected area will not be allowed to work until medically cleared and after a 14 day self-quarantine.
All staff that is not required to have client interaction are working remotely.
No site visits or tours will be allowed until deemed appropriate.
Visitors, delivery staff or contractors will not be allowed into the facility.
All New Recovery In Motion Treatment Center Clients will be monitored before admission: 
All new clients will be prescreened with specific questions relating to the coronavirus and recommended by the CDC and WHO (World Health Organization) clients will be denied admission if there are any red flags.
All new clients will be separated from the community while under 24-hour observation for fevers, coughing or symptoms of illness.
All client outings have been temporarily postponed (this includes outside meetings).
All grocery shopping will be done by staff, we have also stocked up on food, vitamins, and all essential items that may be needed by clients during this period.
Clients are urged to keep a safe distance from other persons and have been divided into smaller groups and communities to keep each other safe and eliminate any possible spread in case of an infection.
Clients have been instructed to report to medical staff any symptoms.
Constant hand washing throughout the day.
Why Substance Abuse Treatment at Recovery In Motion
Recovery in Motion is sincerely devoted to facilitating a life-long recovery that's free from drugs and alcohol. Our comprehensive substance abuse treatment program relies on evidence-based strategies and holistic approaches to heal an individual and his or her loved ones of the addiction.
Our affordable treatment services include compassionate staff and excellent medical care. Our care is tailored to the needs of each patient with a focused emphasis on preparing him or her to engage in a healthy, fulfilling life.
Our services are available to assist an addicted individual and his or her loved ones through every phase of recovery. Our intervention specialists guide family members toward a positive outcome through a process in which everyone feels respected.
Within these environments, we use a variety of methods to address many facets of addiction. Dual diagnosis treatment, 12-step program participation, family involvement programs, life skills therapies, aftercare, and several cognitive therapies that have been proven to help people recover from addiction are all a part of the drug and alcohol treatment program at Recovery in Motion.

Tucson Addiction Rehabilitation
If you or a loved one is suffering from addiction to drugs or alcohol please contact Recovery in Motion Treatment Center today:
(844) 810 1599
Helping a Loved One to Get into Drug and Alcohol Treatment
One of the standout characteristics of addiction is denial. It's common for the close friends and family members of an addicted individual to recognize warning signs of dependency while the individual simultaneously feels like he or she is in total control of the habit. This often complicates important relationships in the individual's life.
At Recovery in Motion, we recognize that the addicted individual is not the only one in pain. Loved ones bear the burden of anger, confusion, guilt, and helplessness as they watch the one they love slowly self-destruct.
An intervention provides a safe environment in which loving and effective communication is the theme, while participants support and empower each other to speak from their perspective. The intervention specialist coordinates the in-person meeting after sharing information about the intervention process with loved ones.
Much preparation goes into the educated suggestions the specialist makes for the meeting. He or she earnestly develops an understanding of the addicted individual and the circumstances surrounding the addiction.
With the hope that the individual will agree to attend substance treatment rehab, the intervention specialist may also make recommendations regarding who should participate in the intervention and which approach is most likely to produce a positive outcome.
Addiction Treatment Programs Offered at Recovery In Motion
The diversity of treatments available at Recovery in Motion gives our patients their best chance for long-term recovery. Cognitive therapy is the backbone of addiction treatment in Tucson. Individual therapy educates one on addiction and its triggers while improving self-esteem and strengthening problem-solving skills.
Group therapy offers the benefit of feedback from peers and loved ones allowing the addicted individual to process other perspectives and ideas through healthy brain functioning.
Other treatments consist of focused therapies that encourage and guide individuals to redevelop their senses of self through creativity. These treatments can be done in art therapy, music therapy and many more.
Frequently, addictions stem from a shocking ordeal that occurred in one's past. These are often traumatizing and are often etched on the psyche of an individual.
Specialized trauma therapy is also available at our facility. A combination of these and other therapies are designed to address each facet of the addiction and the damage done to important relationships in addiction recovery treatment.
"It was here I discovered I wasn't broken and I wasn't alone. I Found myself at Recovery in Motion."
The first step towards recovery starts with quality treatment. Our caring and professional staff can effectively help those that are suffering. This is an opportunity to start a new life free from alcohol and drugs and should be considered as an investment in your loved one's or your own life!
"It was here I discovered I wasn't broken and I wasn't alone. I Found myself at Recovery in Motion."
The first step towards recovery starts with quality treatment. Our caring and professional staff can effectively help those that are suffering. This is an opportunity to start a new life free from alcohol and drugs and should be considered as an investment in your loved one's or your own life!
Long Term Care and Levels of Substance Abuse Treatment
The disease of addiction can be managed after treatment and often requires active maintenance of sobriety throughout life. Our facility and staff are prepared to thoroughly treat any addiction.
Our residential rehab is safe and comfortable allowing one to immerse completely in the process of healing from the addiction while getting treatment.
For an individual with a severe addiction who is unable to participate in a residential program, our intense outpatient program delivers the same level of treatment, allowing for a slightly increased amount of personal freedom.
Outpatient care is usually recommended for mild addictions or those ready to transition from an intense outpatient program. Outpatient care can include weekly group therapy and other treatments for the remainder of the need of the recovering individual.
A 30-day drug and alcohol treatment program was the previous standard for addiction recovery. However, most recent studies show that 30 days of rehab is not proving to be sufficient for most patients seeking long-term recovery.
Treatment programs are now most often a 90-day treatment duration in Tucson, which allows the patient an adequate amount of time to heal and prepare for a successful transition to life outside of treatment.
Suffering from an addiction is painful and unnecessary. Help is attainable. Give us a call today.
Nick Jones – A Veteran in Recovery
Meet Director Nick Jones
Nick Jones has a degree in social work and has been working in the recovery field since 1991. Recovering from addiction himself, he realized that he could use his expertise to help others. Nick founded Old Pueblo, a program for veterans who are experiencing homelessness and substance abuse. Nick eventually found himself feeling called to start his own treatment center. He went on to open Recovery in Motion and has been working on hard on helping others through the program ever since.